post-security: public
Posted in full at: http://ift.tt/1Mxname at November 02, 2015 at 08:00PM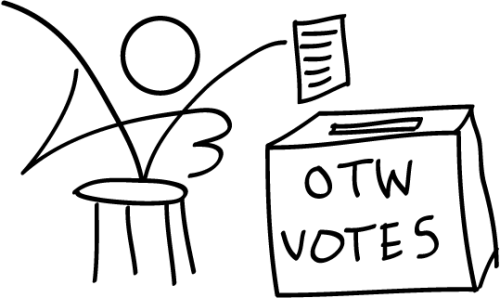 It's time for the OTW elections!

Elections for the OTW — the nonprofit behind AO3, Fanlore, Transformative Works and Cultures and other projects — start on November 6, and it's time to make your choice. If you've made a donation between October 6, 2014 and October 6, 2015 and chose to become a member, you have the right to vote and choose two directors joining the OTW Board for the next three years.

Here are the candidates:

Votes are tallied according to the IRV system (what does this mean?). When it's time to vote, please rank in order of preference the candidates you want to see win. If you don't want to support a candidate, don't rank them at all. There are two seats open for election this year.

If you want to read up and share your thoughts on the issues surrounding these elections, check out the #otw elections tag.

Come November 6, if you have the right to vote in the OTW elections, please read up on the issues at stake, choose your candidates, and vote.
Tags:otw, otw elections, DWCrosspost
Tumblr post (this is likely a reblog, and may have more pictures over there)
[A Dreamwidth post with
comments | Post or read on Dreamwidth| How to use OpenID]